(Printer Friendly Version-pdf-70 KB) (Download a free copy of Adobe Acrobat Reader)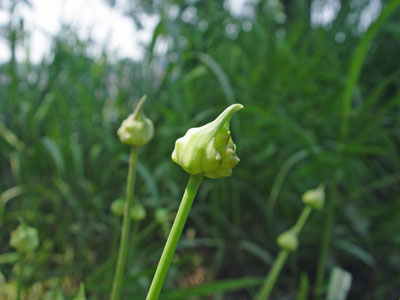 Allium canadense L.
Wild Garlic
Habitat: Alluvial woods, thickets, and meadows. [Forested wetland; Hardwood to mixed forest (forest, upland)]
Range: New Brunswick to North Dakota, south to Florida and Texas.
Aids to Identification: Tight clumps of soft, linear, not hollow, keeled leaves with a distinctly onion-like smell. The bulbs are 1-3 cm long and have a fibrous outer coat with diamond-shaped spaces between the nerves. The flowers are pink or white, but are often replaced by sessile bulblets.
Ecological characteristics: Usually found in rich wooded bottomlands (hardwood floodplain forests), in alluvial soils near streams. Vegetative reproduction, both by the inflorescence bulblets and underground bulbs, is common and the plant may become dominant, its leaves forming dense mats over small areas.
Phenology: Flowers in early summer.
Family: Alliaceae
Synonyms: Represented in Maine by Allium canadense var. canadense.
Known Distribution in Maine: This rare plant has been documented from a total of 15 town(s) in the following county(ies): Aroostook, Cumberland, Kennebec, Knox, Penobscot, Somerset, York.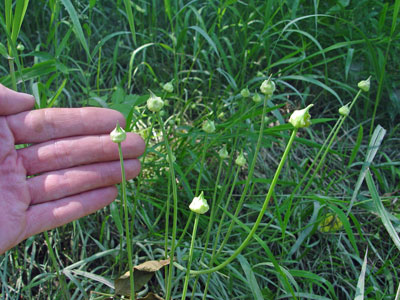 Dates of documented observations are: 1918, 1920, 1921, 1938, 1982, 1983 (2), 1986 (2), 1990, 1991 (2), 1992 (2), 1995, 1997, 1999, 2000 (3)
Reason(s) for rarity: At northern limit of its range, not rare southward.
Conservation considerations: Effects of logging are not well known; partial removal of the canopy would be less likely to adversely affect the plant than would complete removal.