(Printer Friendly Version-pdf-105 KB) (Download a free copy of Adobe Acrobat Reader)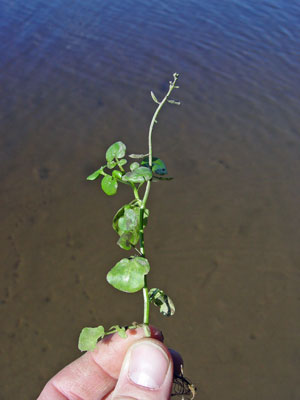 Cardamine longii Fern.
Long's Bitter-cress
Habitat: Tidal estuary. [Tidal wetland (non-forested, wetland)]
Range: Local, along the coastal plain, from Maine to Virginia.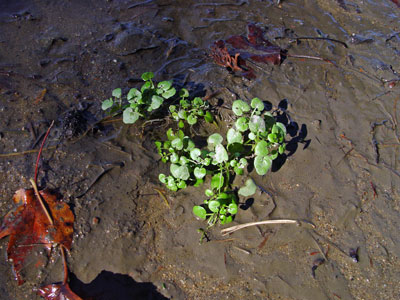 Aids to Identification: Saltmarsh bitter-cress is a weak-stemmed herb growing from fibrous roots to a height of 10-30 cm. All the leaves grow on leaf-stalks, the flowers have no petals, and the fruits are divergent. This species is easily distinguished from the similar Alpine bitter-cress (C. bellidifolia) by the difference in habitat.
Ecological characteristics: In Maine this species typically grows on sandy muck and cobbles.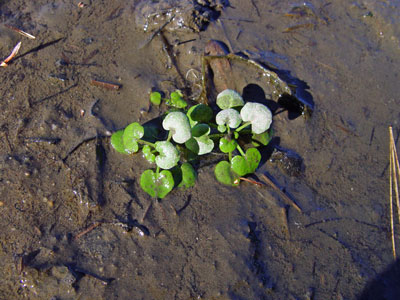 Phenology: Flowers June - September.
Family: Brassicaceae
Synonyms: None noted.
Known Distribution in Maine: This rare plant has been documented from a total of 7 towns in the following counties: Hancock, Lincoln, Sagadahoc.
Dates of documented observations are: 1890, 1921, 1925, 1979, 1981, 1984 (2), 1985 (3), 1986, 1990, 1991, 1992, 1993, 1994, 1995, 1996, 1997 (2), 1998 (2), 1999, 2000, 2002.
Reason(s) for rarity: Scarce throughout its range.
Conservation considerations: Prevent degradation of marsh and estuary habitat from adjacent land uses.