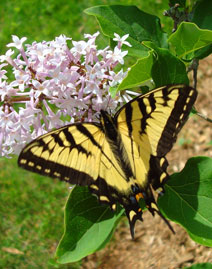 About Us
The Board of Pesticides Control (BPC) is Maine's lead agency for pesticide oversight. The BPC is attached to the Maine Department of Agriculture, Conservation and Forestry for administrative and staffing purposes. Policy decisions are made by a seven-member, public board.
The BPC:
The Board
Maine statute, Title 22, Section 1471-B(1), specifies the composition of the BPC: the members of the public board must include three persons knowledgeable about pesticides in agriculture, forestry or commercial applications. One person must have a medical background and another must hold a faculty position at the University of Maine with expertise in integrated pest management. The two remaining members are chosen to represent the public and must come from different geographic areas of the state. All members are nominated by the Governor and approved by the Legislature. Members serve for alternating four-year terms and are eligible for re-nomination. Current members:
Curtis C. Bohlen, director, Casco Bay Estuary Partnership, University of Southern Maine, Muskie School of Public Service, Portland (public member)
Carol A. Eckert, MD, physician, Sheepscot Valley Medical Center, Coopers Mills (medical expertise)
Bruce V. Flewelling, potato grower, Easton (agricultural expertise)
Clark A. Granger, consulting forester, Woolwich (forestry expertise)
John M. Jemison, Jr., water quality and soil specialist, University of Maine Cooperative Extension, Orono (water quality and soil specialist)
Deven Morrill, licensed arborist, Lucas Tree Experts, Portland (public member)

Richard E. Stevenson, Jr.

, commercial applicator, Modern Pest Services, Brunswick

(commercial applicator expertise)
Board members may be contacted through the BPC office.
Board of Pesticides Control Staff
NAME
TITLE
ANSWER QUESTIONS ABOUT/GET HELP WITH
E-MAIL

Henry Jennings

Director

General information
Board meetings
Rulemaking/Legislation
Obsolete pesticides
Pesticide Notification Registry

Raymond Connors

Manager of Compliance

Complaints/Incidents
Enforcement
Pesticide disposal

Gary Fish

Manager of Pesticide Programs

Licensing
Recertification classes
Exams
Pesticide use
Lawn/Landscape
Golf course/Athletic fields
School IPM
Forestry
Invasive species
YardScaping
Aborists
Federal grants

Lebelle Hicks

Toxicologist

Pesticide risks and human health
Environmental impacts
Technical information on pesticides
Poison control

(IMPORTANT: If you or someone else has been exposed to a pesticide, call the Poison Center immediately at 1-800-222-1222.)

Food safety

Mary Tomlinson

Registrar/Water Quality Specialist

Pesticide registrations
Emergency Registration (Section 18)
Special Local Needs Registration (Section 24c)
Experimental Use Permits (EUP)
Limited Use Permits
Water quality
Endangered species
Bats

Anne Chamberlain

Pesticide Safety Educator

Variances
Got Pests? website
BPC website
School IPM

Megan Patterson

Inspector, Midcoast

Pesticide inspections
Compliance assistance
Pesticide container recycling program (agricultural)

Eugene Meserve

Inspector, Southwest

Pesticide inspections
Compliance assistance

Heidi Nelson

Inspector, Downeast

Pesticide inspections
Compliance assistance

John Haley

Inspector, Aroostook

Pesticide inspections
Compliance assistance

Amanda Couture

Inspector, Central Maine

Pesticide inspections
Compliance assistance

Peggy Lamb

Office Manager

General information
Licensing information
Applicator licenses
Recertification credits
Exam scheduling
Accounts
Obsolete pesticides
Trainer handling videos
Law/Label interpretation

Jan Betts

Licensing Clerk

Applicator/Dealer licenses
Licensing information
Recertification credits
Exam scheduling
Sales and use data
EPA grants
Contact Us
MAILING ADDRESS: 28 State House Station, Augusta, ME 04333-0028
PHYSICAL ADDRESS: 90 Blossom Lane, AMHI Campus, Deering Bldg., Rm 333, Augusta, ME
DRIVING DIRECTIONS & MAPS
AUGUSTA: 207-287-2731
FAX: 207-287-7548
TDD: 207-287-4470
email: pesticides@maine.gov
Contact Us
MAILING ADDRESS: 28 State House Station, Augusta, ME 04333-0028
PHYSICAL ADDRESS: 90 Blossom Lane, AMHI Campus, Deering Bldg., Rm 333, Augusta, ME
DRIVING DIRECTIONS & MAPS
AUGUSTA: 207-287-2731
FAX: 207-287-7548
TDD: 207-287-4470
email: pesticides@maine.gov
MEETINGS—Schedule, Agenda, Minutes

Board of Pesticides Control