Beverage Container Redemption Laws & Rules
A Guide to Selling Beverages in the State of Maine
A step by step guide to assist you in meeting the Beverage Plant Licensing and Bottle Bill label registration, initiator of deposit and pick-up contract agent licensing requirements.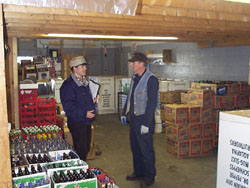 A Guide to Selling Beverages in the State of Maine - (PDF file)
Related Downloads
2015 Returnable Container Registration List(4 MB Excel file)
[Please note: New registrations are entered daily, check back often for updates to this list.]
Maine Beverage Container Licensing/Label Registration Application
For label registration, initiator of deposit, contracted agent. (>1 KB PDF file)
Label registration Addendum
Worksheet in MS Word format.
Worksheet as a PDF file.
Maine Bottle Redemption Statutes
Chapter 27: Manufacturers and Bottlers of Nonalcoholic Beverages [§1751 - §1854]
Chapter 28: Manufacturers, Distributors and Dealers of Beverage Containers [§1867]
Maine Bottle Redemption Regulations
Ch.360:Licensing and Operating Local Redemption Centers, Responsibility of Distributor and Redemption Center