Recent Wildlife Activities
January 3, 2014
Looking ahead to 2014:  Maine's Chickadee Checkoff is still a lifeline for inland fish and wildlife "at risk"
by Charlie Todd, MDIFW Endangered & Threatened Species Coordinator

Are there issues that you care about but fail to act upon?  Many New Year's resolutions slip easily into that category.  Many citizens of Maine care a great deal about our State's rich fish and wildlife heritage but fail to realize that their voluntary donations are the only state funding for the program.  Here's an easy, timely way to participate as we begin the New Year:
Please contribute to the "Chickadee Checkoff" when filing your Maine income tax return.
Look for the "Chickadee Checkoff" on Schedule CP of Maine individual tax forms; see http://www.maine.gov/revenue/forms/1040/2013/13_1040_sched%20cp_downloadable.pdf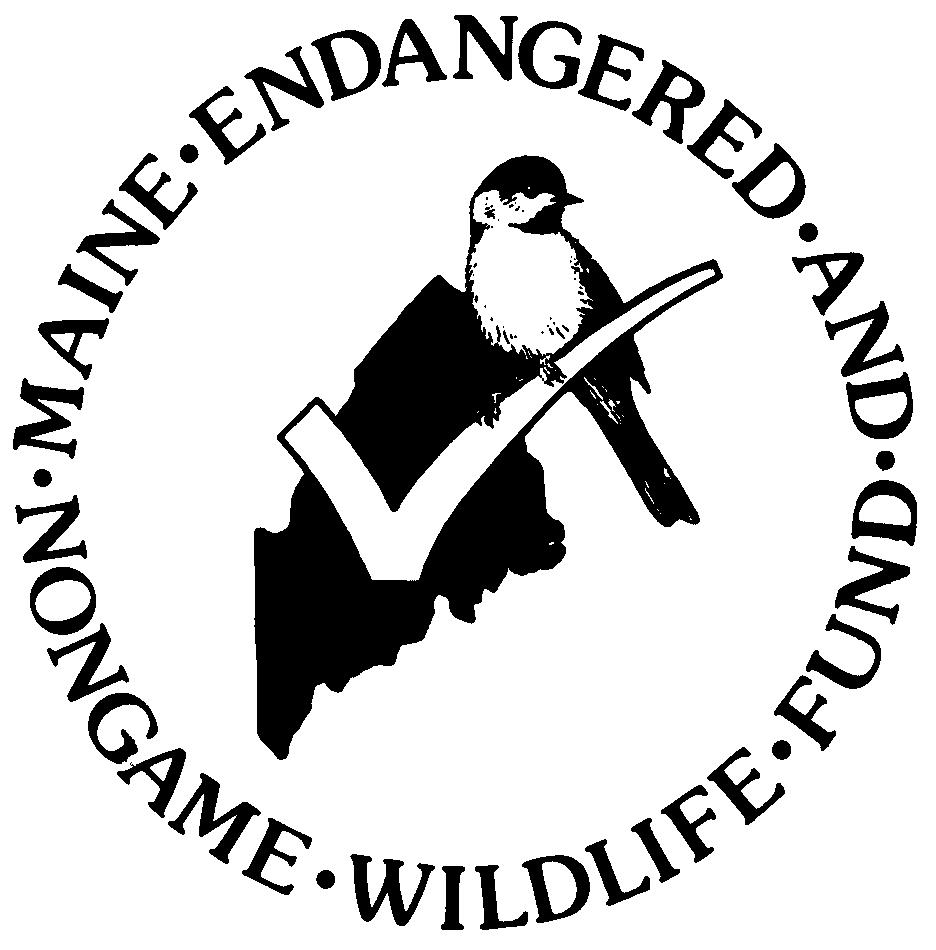 The "Chickadee Checkoff" generated the first revenue for Maine's Endangered and Nongame Wildlife Fund in 1984.  Like many voluntary funding programs, participation naturally wanes without frequent reminders of needs and benefits.  In fact, awareness of the Fund's importance steadily eroded until checkoff income in 2012 fell by 80% from early levels of support.
However, small contributions add up quickly if more donate.  Please consider some highlights from our 2013 conservation efforts and the 30 year-history of the "Chickadee Checkoff:"
Each dollar you contribute to the Maine Endangered and Nongame Wildlife Fund can leverage between $1.86 and $9.00 of additional federal matching funds to MDIFW for conservation of endangered and threatened wildlife or other species "at risk."
Generated only from voluntary donations, this trust account provides the only state funding for endangered and threatened wildlife, other species "at risk," and all other inland fish and wildlife in Maine that do not benefit from sportsmen's dollars.
In 2013, MDIFW biologists documented at least 631 nesting pairs of bald eagles in Maine.  Prior to the onset of recovery efforts in 1976, annual counts yielded only 21 to 35 nesting pairs during 1962-1975.
Since 1999, citizen scientists have generated > 17,000 records on dragonfly and damselfly distribution as a baseline for some of our lesser-known invertebrates.
Numbers of two bat species have plummeted so dramatically (> 90% decline) and so rapidly (within 7 years) that new Endangered Species listings are being reviewed in Maine, several other northeastern states, and under the federal Endangered Species Act.
Forty-three pairs of piping plovers nested in southern Maine:  the most since 2005.  Despite a myriad of threats from beach erosion to intense recreation pressures, our tireless partners safeguard this Endangered Species with intensive management.
Maine's once diverse array of bumblebees is dwindling and serves as yet another symptom of wide-ranging concerns on the fate of insect pollinators.
Major research and management ventures for state-listed species like Blanding's turtles and New England cottontails between MDIFW and partners in neighboring species are typical of increasing conservation alliances in the Northeast.  Threats of regional extirpation for species "at risk" do not recognize state boundaries.
2013 represents the largest annual increase for Maine's "Chickadee Checkoff" since 1985.  Donate on Schedule CP when filing Maine tax returns in the next four months and be part of the solution for imperiled fish and wildlife in our State!
If you need further information, please visit www.mefishwildlife.com or call (207) 287-8000.
---
December 6, 2013
2013 Bird Hunting Season Report
By Brad Allen
The 2013 woodcock season and the fall wild turkey hunting season are now a thing of the past.  I predicted fair hunting success based on our population surveys and modest production of young.  Both species had to cope with significant amounts of rain during the nesting and brood rearing periods.  On the bright side, hunters pursuing either species were greeted with very good hunting conditions in October.    Flights of migrating woodcock began around Columbus Day and continued to the end of the season.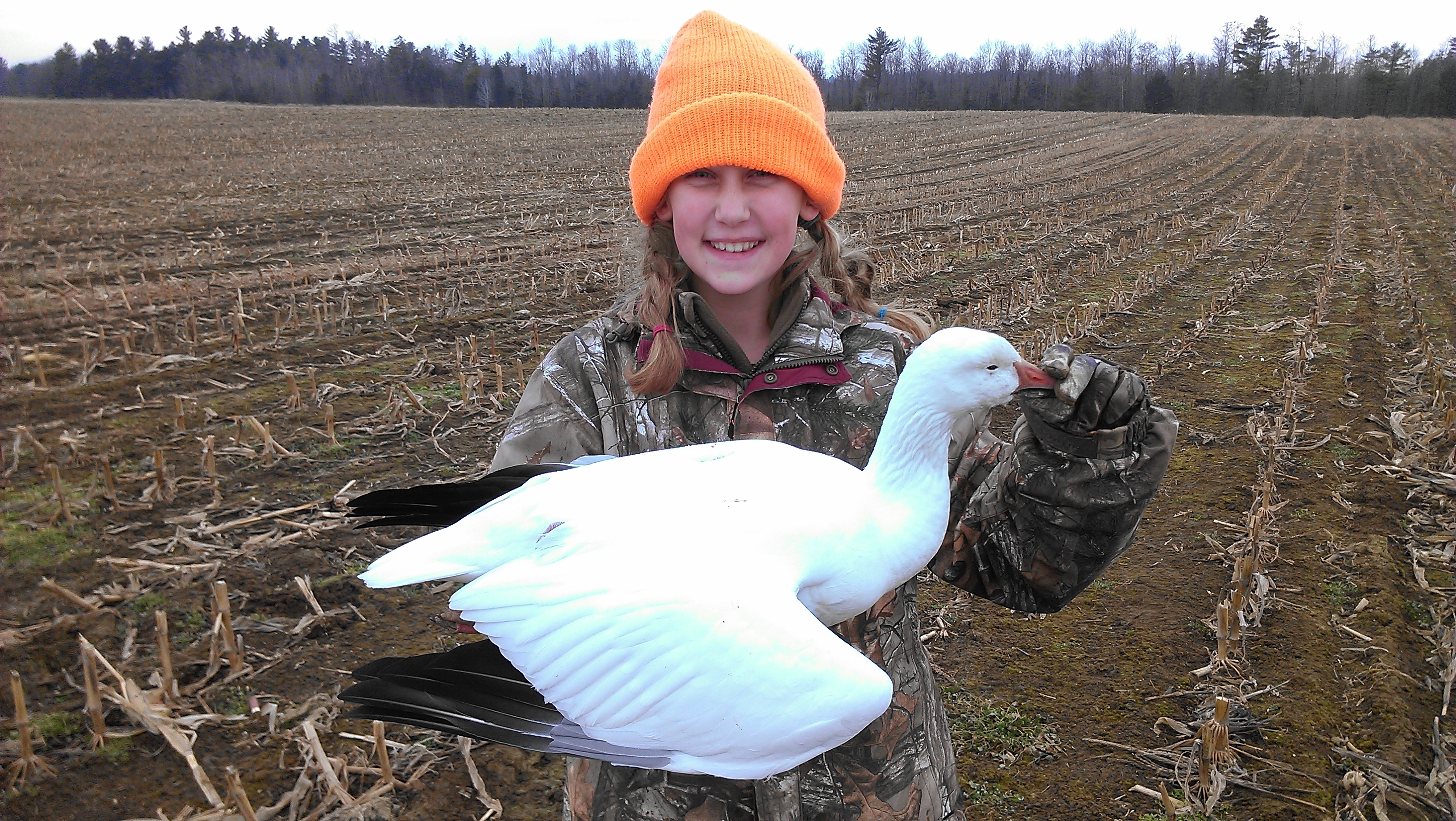 Photo of Emma Hagenaars with an adult Snow Goose…taken by her father Courtney Hagenaars, a member of the Department's Waterfowl Council

Grouse hunters still have the month of December to chase educated birds.  I refer to December grouse hunting as the month of opportunity, although the killing of grouse can be slow if snow reduces access to woods roads or if birds are more wary of hunters.   With what I expected were good numbers of adult grouse going into the spring nesting period, and a fair hatch (albeit small brood sizes) , I thought grouse hunting would be good again in the North Maine Woods but fair in the rest of the state.  I believe this was the case.

The waterfowl season is in mid stride.  As I write this I am hearing reports of very good numbers of migrating ducks showing up in central Maine as the smaller freshwater marshes begin to freeze.  While there are those who will experience some phenomenal duck hunting success this year, I'm thinking that the stars were generally aligned for another average duck season.  Based on reports from the field, I believe I underestimated duck hunting success this year.  Sea duck numbers continue to puzzle me and I continue to ask: "Where are all the sea ducks?"  Based on personal experience I'm predicting a fair at-best hunting season on salt water.   To date I have received no glowing sea duck hunting reports for coastal Maine.   Fortunately, we still have two months to go.  Good hunting friends.
---
December 6, 2013

"Get Banded" with the Maine Birder Band
By Danielle D'Auria
The 2014 Maine Birder Bands will be available in mid-December, just in time for holiday gift giving.  Your gift of a Maine Birder Band goes well beyond the band recipient; it also helps fund important bird conservation efforts in Maine.  Funding nongame programs is perpetually a concern of our Department.  About ninety percent of Maine's 292 bird species are considered nongame species.  Six years ago, IFW launched the Maine Birder Band program through which individuals can donate to a fund dedicated to bird conservation in Maine.  In exchange for a $20 donation, contributors get "banded" and receive a bird band with a unique identifying number that is registered with our Department. 
The bird band is the size of a band used to tag a Canada goose or wild turkey and is meant to fit onto a binocular or camera strap.  If the band is lost, the finder can call IFW to reunite the band and the item to which it is attached to its rightful owner.  To date, nearly 1,000 bands have been sold to individuals in 27 states or provinces, generating approximately $20,000 in revenue that will go directly to bird conservation efforts in Maine, including research and monitoring.  As a non-federal source of funding, Maine Birder Band funds are in reality worth even more.  They can be used as a match to federal funding sources, such as the USFWS's State Wildlife Grant Program and leverage up to three times their worth.
In addition to the lasting benefits the Maine Birder Band can provide to IFW's bird conservation efforts, it has also helped a few individuals locate their lost binoculars and even a set of lost keys!  The Maine Birder Band makes a great conservation-minded gift for someone who loves the outdoors.
---
July 30, 2013
Biologists and volunteers capture and band Canada Geese
By Mark Latti, IFW promotional coordinator
Biologists and volunteers recently wrapped up a busy season collecting and banding over 500 resident Canada geese throughout the state.
Banding is an important tool that biologists used to manage waterfowl populations, as bands that are returned by hunters give biologists information on migratory patterns, survival rates, hunting pressure and other factors. Each year, approximately 12-15% of the resident Canada goose harvest is comprised of banded birds. This data allows the department to adjust hunting season lengths and bag limits.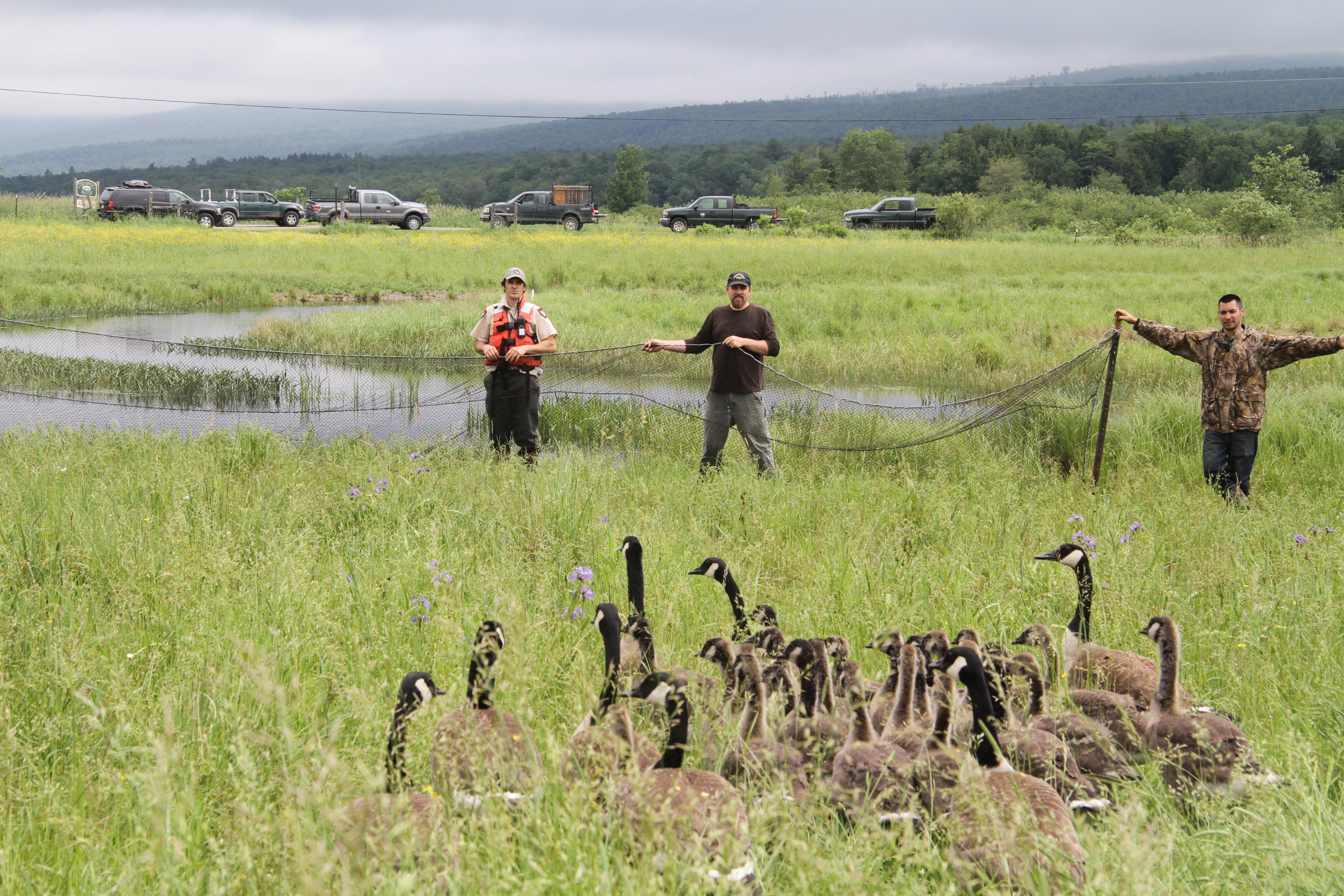 Resident Canada geese are different than migratory Canada geese in that they rarely travel more than several hundred miles from where they were born, and they return to the same feeding and nesting sites.
Due to their shorter migrations and association with suburban areas, they also are not as heavily hunted. They tend to breed earlier in life, lay larger clutches of eggs and have higher gosling survival rates than migratory geese.
Their higher survival rates and their breeding success is reflected in the daily bag limits for geese. During the early season for geese, which focuses on resident geese, hunters in the southern part of the state are allowed eight geese per day.  In October, when migratory geese move through Maine, the daily bag limit is reduced to two geese.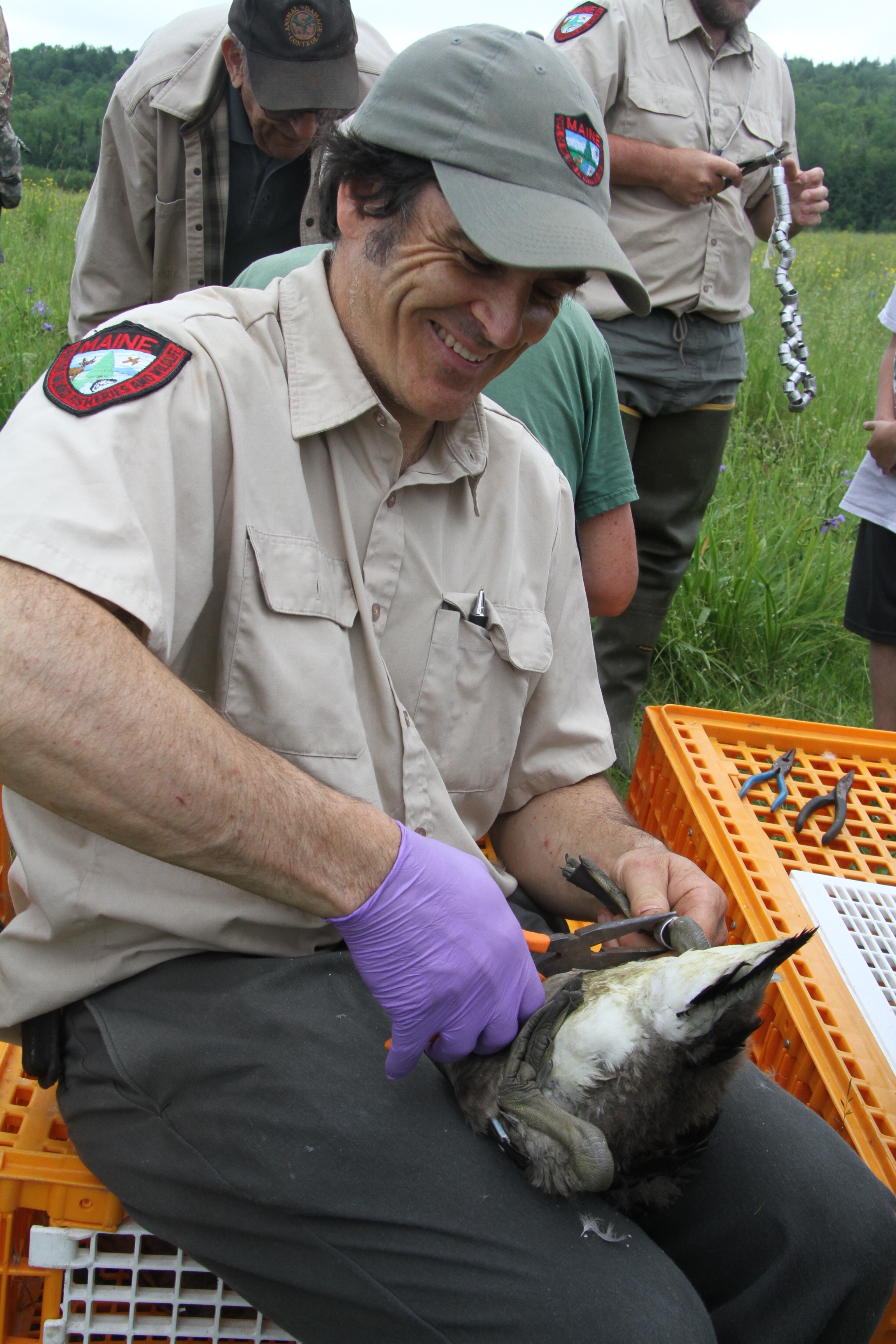 In order for biologists to get all this data to make these management decisions, they have to collect and band these birds. But, collecting geese in order to band them can get a little tricky. Fortunately for biologists, geese molt, or lose their feathers, in early summer. During this time, the birds are flightless, and easier to capture.
Biologists scout for areas where geese are residing, trying to find areas that are suitable for surrounding and capturing them.
Not every location is suitable for trapping and capturing geese. The flock needs to be surrounded by people in order to be captured, and woods, marshes and waterways can provide escape routes for the geese.
Once a suitable location is selected, a group of biologists and volunteers quickly surround the geese, blocking any escape routes. The group slowly contracts around the flock, gently guiding them towards nets positioned at one end of the field. The nets are set in a manner to funnel the geese into a small area, where they become trapped.
Once confined, the work begins. Birds are classified as adults or juveniles, the sex of the bird is identified, and if the bird is not already banded, a silver band with a unique number is placed around the bird's leg. Once all the birds have been banded, they are released.
This year, biologists captured geese in areas of Aroostook, Cumberland, Penobscot and Waldo counties. In all, 575 geese were captured.  Of those, 495 were newly banded and 80 geese were captured and banded. The department has been capturing and banding resident geese since 2001.
The data collected has been invaluable, and hunters have benefitted as the daily bag limit for the early season for geese continues to grow. The general public has also benefitted through management of the resident goose population.  Currently, there is a proposal being considered to increase the daily bag limit from eight geese to ten geese in the southern and coastal zones. On August 14, 2013, this proposal will be the subject of a public hearing and consideration by the Waterfowl Advisory Council.  Public comments can be submitted to the Department until the close of the public hearing on August 14.  The proposal will then be considered by the commissioner's Advisory Council and, if it passes, it could be in place for this season.
Banding is an important management tool for biologists, so if you are out hunting this fall and are fortunate to bag a banded bird, take the time to report the bird. Not only does it provide information to our biologists, but may also provide you with some interesting information, such as  where the bird was banded, and how long ago.
---
July 3, 2013
Foresters and Biologists come Together for Deer
Maine Society of American Foresters hosted a Northern White Cedar Management workshop Friday, June 28th in Northern Aroostook County.  Biologists from IF&W attended the workshop alongside foresters and biologists from several land management, logging, and private businesses throughout Maine and Canada.  Recently, due to the limited knowledge surrounding management of this relatively slow growing tree species, United States Forest Service partnered with Natural Resources Canada on a 10 year research study.  Publication of their "Silvicultural Guide for Northern White-Cedar" (General Technical Report NRS-98) represents the compilation of their research and management suggestions.  Lead presenters were  Dr. Laura Kenefic (USDA Forest Service), Dr. Robert Seymour (Univ Maine), Dr. Jean-Martin Lussier (Canadian Forest Service), Dr. Jean-Claude Ruel (Laval Univ), and Charles Tardiff (Maibec Industries). 
Braving the drenching rains that fell that day, workshop attendees visited several different stands and discussed topics including:
Regeneration and recruitment issues in different stand types
Management of Cedar in PCT (Pre-commercial thinning) stands
Importance of Cedar in for deer wintering areas
Importance for biological diversity and vertical structure
Special considerations for deer wintering areas was discussed with suggestions for biologically sound ways to manage cedar in these areas to promote needed cover and food resources, ensure increased recruitment, tree vigor, and habitat quality. Deer require softwood canopy closure of 70% and greater to provide shelter during the most severe winter conditions.  Cedar contributes to this overall canopy closure in some stands but leaves of cedar provide the only browse able to sustain deer in winter without severe weight loss.  Multi-aged cedar structure, as well as, litterfall from mature trees provides this essential food source.   Considerations for managing DWA's while in an areas for other larger harvest operations were discussed as one tool that could be considered to maintain economic feasibility for forester managers.  Interaction and discussions during the workshop provided a great opportunity for education and information sharing of needs of the foresters for commercial industry and needs of biologists for wildlife habitat, thus promoting groundwork for strong professional working relationships.
Picture Captions:
Attendees exit a stand where mature Cedar was harvested last winter.
Cedar in a mixed stand of spruce/fur recently pre-commercially thinned.  Cedar in this stand was treated as "Invisible" so not cut or considered in stem density calculations.
---
July 1, 2013
Helping Landowners manage Habitat for an Endangered Species

On Saturday, June 29th a workshop "Under Cover- How to manage young forests and shrublands for wildlife" was held in Kittery and York Maine to illustrate practices that can be implemented to enhance habitat for New England cottontail (NEC) and other early successional wildlife. Presenters included representatives from the U.S. Fish and Wildlife Service, National Wild Turkey Federation, Maine Department of Inland Fisheries and Wildlife and USDA- Natural Resources Conservation Service.

An indoor session was held at Kittery Trading Post followed by an outdoor session at the York Land Trust's nearby Highland Farm Preserve. A small but enthusiastic group of landowners attended both sessions. The indoor session focused on the young forest and shrubland habitat that NEC and a suite of other songbirds and gamebirds need to thrive. The species that need these habitats were described and forest succession was described in some detail. This was followed by a discussion of the many management practices that landowners could use to develop these early successional habitats on their land. The NRCS representative described some of the federal cost share programs available to help offset some of the habitat management costs.
At Highland Farm Preserve the group looked at a diverse number of habitats including a well regenerated 3 year old clearcut. We discussed the role of invasive plants, planting native shrubs, riparian /travel corridors, tree cavities, grouse and woodcock habitat requirements and access needs for management. The group was engaged and asked many questions during both sessions.
Based on the positive response to this workshop a similar workshop is being planned for early September in the Scarborough area.