Portland CareerCenter
The Portland CareerCenter is part of the statewide CareerCenter network that provides a variety of employment and training services at no charge for Maine workers and businesses.
Maine Veterans receive priority of service in all CareerCenter programs.
Contact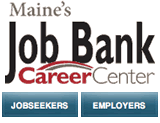 Address: 185 Lancaster Street, Portland, ME 04101-2453
Phone: (207) 771-5627 or 1-877-594-5627
Fax: (207) 822-0221
TTY users call Maine Relay 711
Directions: Map Location
Parking: provided in lots along the block on Lancaster Street with signs marked Bayside or Government Center. If attending a workshop, do not park in 1-hour parking spaces. You can also park up the street at the Public Market Parking Garage at corner of Elm Street and Cumberland Avenue.
Community Links
Business Answers online exists to make it easier to start and conduct business in the State of Maine.

METRO provides fixed route bus service to Portland, Westbrook, South Portland (Maine Mall area) and Falmouth Crossing (Banknorth) areas.

This organization has been providing assistance to Maine people who are struggling with mental illness and substance abuse issues.

Go to www.needymeds.org/ to find about options.

They offer many services including workshops on Career Exploration: Paying the Bills and Feeding the Soul,Introduction to Starting a Business,and a Self-Esteem Workshop.
Local Education/Training Resources