Welcome to MaineDOT
What's New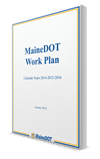 Now Available!
MaineDOT Work Plan
Calendar Year 2014-2015-2016
Visit the Work Plan website to view projects.

Visit Our Transportation Safety website for more safety related information.
Stay Safe This Winter
Over 6,500 crashes occur on snow or ice covered roadways each year in Maine – that's 1/5 of all Maine's crashes! December is Maine's highest winter crash month – drivers forget how slippery roads can get when the winter season starts.
Here are some tips to keep in mind:
Listen for weather and road conditions, watch for temperature drops and be ready to SLOW down
Leave plenty of following distance from the vehicle ahead.
Make sure your car has suitable winter tires with good tread and keep windshield washer reservoir full. And remember to always wear your safety belt.
And Remember to Always Wear Your Safety Belt!
Page last updated 2/21/14