Meet the Commissioner: Molly Larson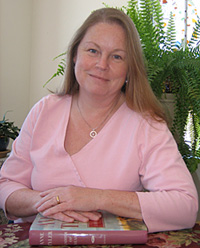 Molly Larson
Molly Larson was appointed by Governor Baldacci to the Maine Library Commission in 2008 as the Northeastern Maine Library District representative.
Molly currently is Director of the Rockport Public Library, having come there in November 2005 after 21 years at Bangor Public Library. She came to Maine in 1977 when she enrolled at the University of Maine at Orono. She graduated with a major in elementary education/special education. She has additional training in non-profit management.
Her start in libraries was somewhat serendipitous; wheeling her son in a stroller down Harlow Street, she glanced up at the Bangor Public Library, and thought, "That looks like a nice place to work." She walked up to the desk, asked if they were hiring. Looking back, that was a life-changing decision; it set her on a career path that she has never regretted. Working in libraries has brought tremendous fulfillment and joy.
A Career is Born
While at Bangor she took any job that was assigned. She especially enjoyed working in the reference department, and later at the technology help desk. She later traveled state-wide to help train librarians and teachers in the use of what is now known as the MARVEL databases.
In Rockport, she has juggled her full-time management duties with a stint as president of the Maine Library Association where she was also co-chair the Maine Libraries Conference at Sunday River. Even though terribly camera-shy, when asked, she worked with Tim Sample to create a DVD to promote MARVEL, (Maine's Virtual Library). Molly will always remember that experience fondly and still chuckles when thinking of working with the Maine humorist.

On Being a Library Director
As a director, Molly enjoys using collaborative management techniques in her supervisory role in Rockport, and says, "If I hadn't gone into library work, I would have been a talent scout, a teacher, a detective, or an event planner. Now I get to be all of those things and a lot more at this job. It's important to have a sense of humor and look to the gifts and talents of the people around you to strengthen your organization." She believes it is all members of the organization that contribute to its success.
Molly lives in Hope with her husband. She has two grown children and has recently become a grandmother. She has an eclectic taste in books, inclining to mysteries and crime fiction. She still loves reading the newspaper, and always flips to the editorial and letters pages first. Molly looks forward to weekends for sailing, hiking, or Sunday crosswordsdepending on the weather!
Molly is optimistic about the future of libraries. She holds her colleagues in high esteem in this profession and is confident that we will continue to adapt to the changing needs of our communities and the people we serve.