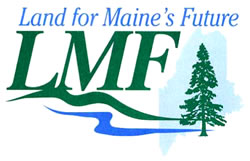 Land for Maine's Future
Board Issues Call for New Proposals
The Land for Maine's Future Board announces a Call for Proposals for land conservation projects using funding from approximately $10.4 million in Land for Maine's Future bonds approved by Maine voters.

Projects will be funded in the following categories:

Conservation and recreational lands
Farmland protection
Working waterfront access protection
Public access to Maine waters, for boating, fishing and swimming

View the press release and the final Proposal Workbooks.
The Land for Maine's Future program has moved
LMF's new home is at the Department of Agriculture, Conservation and Forestry. We have a new address and telephone numbers.
Biennial Report to the Legislature
In January 2013 the LMF program presented its 2013 Biennial Report to the Joint Standing Committee on Agriculture, Conservation and Forestry. This report reflects the high level of success LMF had in the previous biennium.
About the Land for Maine's Future Program
The Land for Maine's Future Program is the State of Maine's primary funding vehicle for conserving land for its natural and recreational value. The program was established in 1987 when Maine citizens voted to fund $35 million to purchase lands of statewide importance. In 1997, new priorities were set forth by a commission of Maine citizens. Since that time the program has administered multiple bonds and even instances of general fund appropriations.

Accomplishments: Completed projects in all of Maine's 16 counties. Types of land include; mountain summits; shorelines of rivers, lakes, and ponds; coastal islands; beaches; forests; grasslands; wildlife habitat; farmland; and wetlands. LMF assistance has put the following special places in the public trust forever:

52 water access sites
37 farms of more than 8,900 acres
20 commercial working waterfront properties
Acquisitions include more then 1,200 miles of shore lands, and 158 miles of former railroad corridors for recreational trails.
Over 560,000 acres of conservation and recreation lands.
This includes 315,000 acres of working lands reflecting LMF's efforts to conserve the working landscape and keep lands in private ownership with permanent land conservation agreements.

Funding: The Program works to coordinate and finance acquisition of lands. Through the use of matching funds, the program encourages partnerships with local, regional, statewide, and federal conservation organizations.

The LMF Program's priorities have evolved since 1987, however, the prime focus remains the same – conserving the prime physical features of the Maine landscape and recognizing that working lands and public access to these lands is critical to preserving Maine's quality of life.

In 1999, the program was broadened to allow the use of funds for projects having local and regional significance as well as for projects having statewide significance. Maine citizens also authorized support for conservation lands held by local groups partnering with municipalities and private land trusts. In 2005, the Legislature added a working waterfront pilot program. The Legislature increased the requirement for matching funds to a 1:1 ration in 2010.

Keys to success: The Land for Maine's Future has garnered broad based support because it respects landowner rights by acquiring land only from willing sellers, pursues a mission defined by the public, provides a tangible return to everyone who cherishes Maine's landscape (from hunters, to hikers, snowmobilers to birdwatchers), and leverages both federal and private funding for state priority purchases.

Proposal Process: The Land for Maine's Future Board issues calls for proposals on a periodic basis. Applicants are encouraged to work with program staff to complete the application process, which is described in the Land for Maine's Future Workbook.
For information contact the Land for Maine's Future Program