Gypsy Moth Quarantine Area in Maine—List of Towns and Counties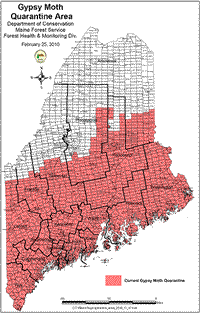 Baxter State Park (entire townships of: Mount Katahdin Twp, Nesourdnahunk Twp, T3 R10 WELS, T4 R9 WELS, T5 R9 WELS, T6 R10 WELS, Trout Brook Twp and portions of: T2 R10 WELS, T2 R9 WELS, T3 R8 WELS, T4 R10 WELS, T6 R8 WELS)
Androscoggin County- The entire county.
Aroostook County- Amity, Bancroft, Benedicta, Cary Plt, Crystal, Dyer Brook, Forkstown Twp, Glenwood Plantation, Haynesville, Hodgdon, Houlton, Island Falls, Linneus, Macwahoc Plantation, Molunkus, N. Yarmouth Acad.Grant, New Limerick, Oakfield, Orient, Reed Plantation, Sherman, Silver Ridge, T1 R5 WELS, T2 R4 WELS, T3 R3 WELS, T3 R4 WELS, T4 R3 WELS, TA R2 WELS, Upper Molunkus, Weston
Cumberland County-The entire county.
Franklin County- Avon, Carthage, Chesterville, Coplin Plantation, Crockertown, Dallas Plantation, Davis, Eustis, Farmington, Freeman, Industry, Jay, Jerusalem, Kingfield, Lang, Madrid, Mount Abraham, New Sharon, New Vineyard, Perkins, Phillips, Rangeley, Rangeley Plantation, Redington, Salem, Sandy River Plantation, Strong, Temple, Twp 6 North of Weld, Twp D, Twp E, Washington, Weld, Wilton, Wyman
Hancock County-The entire county.
Kennebec County-The entire county.
Knox County-The entire county.
Lincoln County-The entire county.
Oxford County- Adamston, Albany, Andover, Andover North, Andover West, Batchelders Grant, Bethel, Brownfield, Buckfield, Byron, C Surplus, Canton, Denmark, Dixfield, Fryeburg, Gilead, Grafton, Greenwood, Hanover, Hartford, Hebron, Hiram, Lincoln Plantation, Lovell, Lower Cupsuptic, Magalloway Plantation, Mason Plantation, Mexico, Milton Plantation, Newry, Norway, Oxford, Paris, Parkerstown, Peru, Porter, Richardsontown, Riley, Roxbury, Rumford, Stoneham, Stow, Sumner, Sweden, Twp C, Upton, Waterford, Woodstock
Penobscot County- Alton, Argyle, Bangor City, Bradford, Bradley, Brewer City, Burlington, Carmel, Carroll Plantation, Charleston, Chester, Clifton, Corinna, Corinth, Dexter, Dixmont, Drew Plantation, East Millinocket, Eddington, Edinburg, Enfield, Etna, Exeter, Garland, Glenburn, Grand Falls Plantation, Greenbush, Greenfield, Grindstone, Hampden, Hermon, Hersey Town, Holden, Hopkins Academy Grant, Howland, Hudson, Indian Purchase, Kenduskeag, Kingman, Lagrange, Lakeville, Lee, Levant, Lincoln, Long A, Lowell, Mattamiscontis, Mattawamkeag, Maxfield, Medway, Milford, Millinocket, Mount Chase, Newburgh, Newport, Old Town City, Orono, Orrington, Passadumkeag, Patten, Plymouth, Prentiss Plantation, Seboeis Plantation, Soldiertown, Springfield, Stacyville, Stetson, Summit, T1 ND, T1 R6 WELS, T1 R8 WELS, T2 R8 NWP, T2 R8 WELS, T2 R9 NWP, T3 R1 NBPP, T3 R9 NWP, T5 R1 NBPP, T5 R8 WELS, T6 R8 WELS, TA R7, TA R8, TA R9, Veazie, Veazie Gore, Webster Plantation, Winn, Woodville and portions of T3 R8 WELS within the boundaries of Baxter State Park.
Piscataquis County- Abbot, Atkinson, Barnard, Blanchard Plantation, Bowerbank, Brownville, Dover-Foxcroft, Eliotsville Twp., Greenville, Guilford, Katahdin Ironworks Twp., Kingsbury Plantation, Lakeview Plantation, Medford, Milo, Monson, Mount Katahdin Twp, Nesourdnahunk Twp, Orneville, Parkman, Sangerville, Sebec, Shirley, T1 R10 WELS, T1 R11 WELS, T1 R9 WELS, T2 R10 WELS, T2 R9 WELS, T3 R10 WELS,T4 R9 NWP, T4 R9 WELS, T5 R9 NWP, T5 R9 WELS, T6 R10 WELS, T7 R9 NWP, TA R10 WELS, TA R11 WELS, TB R10 WELS, TB R11 WELS, Trout Brook Twp, Wellington, Williamsburg, Willimantic and portions of T4 R10 WELS within the boundaries of Baxter State Park.
Sagadahoc County-The entire county.
Somerset County- Anson, Athens, Bald Mountain, Bigelow Twp, Bingham, Bowtown, Brighton Plantation, Cambridge, Canaan, Caratunk, Carrying Place, Carrying Place Town, Concord Plantation, Cornville, Dead River, Detroit, East Moxie Twp, Embden, Fairfield, Harmony, Hartland, Highland Plantation, Lexington Plantation, Lower Enchanted Twp, Madison, Mayfield, Mercer, Moscow, Moxie Gore, New Portland, Norridgewock, Palmyra, Pittsfield, Pierce Pond Twp, Pleasant Ridge Plantation, Ripley, Skowhegan, Smithfield, Solon, St. Albans, Starks, T3 R4 BKP WKR, The Forks Plantation, West Forks Plantation
Waldo County-The entire county.
Washington County-The entire county.
York County-The entire county.
Updated: March 1, 2010