NATURAL RESOURCES SERVICE CENTER

The Natural Resource Service Center is a Division of DAFS (Dept. Of Adminitrative And Financial Services). This Service Center consists of a consolidation of functions which include Accounting/Finance, Human Resources and Payroll, for four different departments. These Departments include Agriculture, Conservation & Forestry, Environmental Protection, Inland Fisheries & Wildlife, and Marine Resources.
---
Gilbert Bilodeau
Director, Natural Resources Service Center
287-5122
Deb Phillips
Director Human Resources/Payroll Services
287-4925, Cell 592-3309
Bill Paquet
Administrative Support - Natural Resources Service Center
287-2214
---
SPECIAL HIGHLIGHT LINK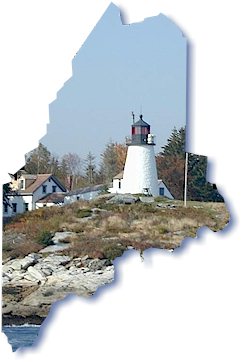 Burnt Island is a beautiful five-acre island owned by the Maine Department of Marine Resources. It is near the mainland and approximately one mile from the port of Boothbay Harbor. The historic buildings at this active lighthouse station have been carefully restored and transformed into an exceptionally fine educational facility.