Climate Change
The Sustainability Division works on cross-media issues to address climate change, which poses significant and widespread environmental and economic challenges and opportunities across many sectors, including Energy, Fuels, Transportation, and Land Use. Throughout the State of Maine and at the Department of Environmental Protection there are numerous strategies for addressing climate change within many agencies and organizations.
Through the creation of the Environmental & Energy Resources Working Group, the Department is consolidating a summary of the State's activities which address climate change and discussing mechanisms for cross agency partnerships, information sharing, efficiencies and streamlining. These efforts will provide specific and identifiable tools to assist decision-makers.
State agencies involved in this effort include the Department of Transportation, Department of Marine Resources, Department of Agriculture, Conservation and Forestry, Department of Inland Fisheries & Wildlife, and the Governor's Office of Energy.
The DEP is taking action to reduce impacts of climate change and to make preparations for changes in our climate. The DEP evaluates proposals for development, provides technical assistance, issues licenses, inspects operations, and develops rules and policies to reduce human impacts on the natural environment to promote sustainability.
DEP Contact: George MacDonald 207-287-2870
More information:
Reducing Impacts of Greenhouse Gas Emmissions
Climate Preparation and Adaptation
---
Reducing the Impacts of Greenhouse Gas (GHG) Emissions
"Greenhouse Gases" trap heat in the atmosphere. Currently regulated GHGs include:
Maine law (38 MRSA §576) set goals to reduce GHG emissions statewide:
In the short term, by January 1, 2010 to 1990 levels;
In the medium term, by January 1, 2020 to 10% below 1990 levels; and
In the long term, reduction sufficient to eliminate any dangerous threat to the climate. To accomplish this goal, reduction to 75% to 80% below 2003 levels may be required.
The Department provides biennial reports to the Legislature, evaluating the State's progress toward meeting our reduction goals. Fifth Biennial Report on Progress Toward Greenhouse Gas Reduction Goals (pdf)
The Department's Fifth Biennial Report shows that Maine met the first goal of reducing emissions to 1990 levels.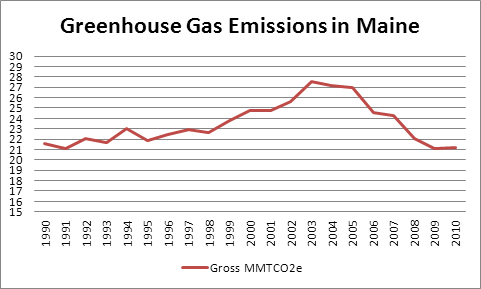 Carbon dioxide, emitted when we use fuels for energy, accounts for most GHGs.
Maine's industrial facilties' GHG emissions have dropped 33% from 2003 to 2011. More than 200 facilities with air emission licenses annually report their GHG emissions to the Maine DEP. Facility emission reports (complete reports for 2012 emissions will be available in 2014)
Motor vehicle GHG emissions also returned to 1990 levels by 2010.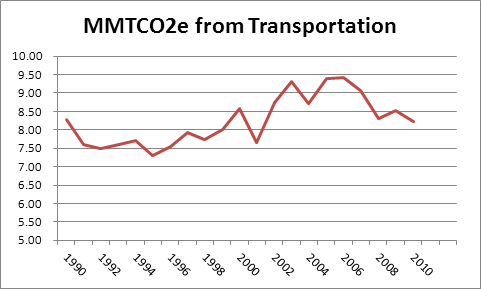 Maine is one of twelve states that adopted the California Low Emission Vehicle standards (see Department Rule Chapter 127). The DEP incorporated updated standards issued by California in 2012.
---
Ongoing Efforts
Responding to Maine Climate Needs: A Roundtable Showcasing Available Climate Data and Tools
Held October 10, 2014 at USM, Portland, Maine Introduction A group of New England governmental and nongovernmental leaders are collaborating to help communities across the region become resilient to the impacts from global climate change. These leaders are united by a shared determination to offer support and assistance to New England communities as they learn about what climate change will mean for them and as they take practical steps to become better prepared. The genesis of this effort was an invitational Climate Leaders' Summit organized by EPA New England on November 8, 2013, at Johnson and Wales University in Providence, Rhode Island. The 140 attendees from federal, state and local government agencies, regional and local non-profit organizations, and businesses spent the day discussing the challenges to building climate resilience across New England. (more)
October 10 Maine Roundtable Agenda, speaker bios and presentations (pdf file)

Notes and additional resources from this Roundtable (pdf file)
Maine DEP's GHG Emission Reduction Regulations:
Maine is a member of the Regional Greenhouse Gas Initiative (RGGI), a cooperative effort by nine Northeast and Mid-Atlantic states to limit greenhouse gas emissions. RGGI is the first mandatory, market-based CO2 emissions reduction program in the United States.
Connecticut, Delaware, Maine, Maryland, Massachusetts, New Hampshire, New York, Rhode Island, and Vermont are signatory states to the RGGI agreement. These nine states cap CO2 emissions from the power sector to 91 million tons per yearand then require a 10 percent reduction in these emissions by 2020.
A report issued in November 2012, estimates that RGGI investments will offset the need for more than 27 million megawatt hours of electricity generation and 26.7 million British Thermal Units (BTUs) of energy generation. This savings will help avoid the emission of 12 million short tons of carbon dioxide pollution, an amount equivalent to taking 2 million passenger vehicles off the road for one year.
Within the RGGI region, CO2 emissions from RGGI sources have decreased by more than 30 percent from baseline levels.
In addition to their environmental impact, RGGI investments have also had a positive impact on consumer energy bills and the regional clean energy economy.
Maine rules (offsite) for RGGI:

Ch. 156 CO2 Budget Trading Program
Ch. 157 CO2 Budget Trading Program Waiver and Suspension
Ch. 158 CO2 Budget Trading Program Auction Provisions
RGGI contact: Marc Cone 207-287-1932
Air Emissions Permitting
In addition to participating in RGGI, air emission sources throughout the state may need to obtain a license from the department. Maine has had an existing licensing program in place since the early 1970's for the licensing of major and minor sources of air pollution. In the Clean Air Act Amendments of 1990, licensing was mandated for major sources. Maine has been given the authority over this program in 38 M.R.S.A. Section 344 and 590 and requires Best Available Control Technology (BACT) for projects that exceed specified CO2 thresholds.
Ch. 115 Major and Minor Source Air Emission License Regulations
Ch. 140 Part 70 Air Emission License Regulations
Air permitting contact: Eric Kennedy (207)287-5412
Other Resources
Energy Efficiency and Alternative Energy Programs
U.S. Environmental Protection Agency GHG Emission Reduction Regulations
Brief overview of Proposed EPA Section 111(d) Rule for Existing Power Plants and how it may affect Maine
The EPA is proposing state-specific rate-based goals for CO2 emissions from the power sector, as well as guidelines for states to follow in developing plans to achieve the state-specific goals
The proposed guidelines are based on and would reinforce actions already being taken by states and utilities to upgrade aging electricity infrastructure with 21st century technologies
The proposal has two main elements: (1) State-specific emission rate-based CO2 goals; and (2) guidelines for the development, submission and implementation of state plans
EPA has identified four facilities in Maine as 'affected facilities'
Staff within the Air Bureau and the OC have been reviewing this proposed rule and drafting comments for possible submission to the EPA
Maine is participating in the Regional Greenhouse Gas Initiative (RGGI). This program is a mass-based cap and trade CO2 emissions regulatory system applying to fossil fuel fired electrical generating assets on a regional basis
The Department expects Maine to be well positioned to meet the proposed goal of reducing average CO2 emission rate from generating assets approximately 14% by 2030 through continued participation in RGGI, and with significant wind generating and other renewable assets being developed
In addition, Maine has been actively promoting programs that reduce electrical load by encouraging energy efficiency throughout the economy, relying on the industrial, commercial, institutional and residential sectors to achieve demand reduction.
Transportation Programs
New England Governors' and Eastern Canadian Premiers
---
Climate Preparation and Adaptation
Maine's natural resources are the cornerstone of our economy whether it's fishing, farming, forestry, outdoor recreation or harvesting the resources to create and sell innovative products, our strength depends on the health of the air, land and water around us. In addition to our natural resources, Maine's built environment – the drinking and wastewater systems, transportation systems and residential, commercial and manufacturing locations – sustain and grow our economy. Despite ongoing efforts to reduce Greenhouse Gases, changes in our climate pose potential adverse impacts to our built and natural resources environment. To be better prepared for those impacts, the State and DEP encourage policies, practices and programs that assist residents, municipalities and businesses to adapt to the adjustment in natural or human systems from a changing environment that recognizes beneficial opportunities or moderates negative effects.
Leading the Bureau of Land and Water Quality as its Director is Mick Kuhns, one of only three engineers in Maine certified as a Sustainability Development Professional by the Association of Energy Engineers. His background in sustainable development, energy efficiency and pollution prevention translate well to his areas of responsibility, which include overseeing waste water facilities, licensing development projects and water protection for Maine's valuable lakes, rivers and ocean and is fundamental as the DEP continues preparing for climate adaptation. Agency-wide, the department promotes measures to prepare areas of human development for extreme weather and recognizes the potential variations -- both beneficial and harmful -- from a changing climate.
The Department integrates preparation for a changing climate into agency programs, policies, rules and operations to ensure they will be effective under future climatic conditions. This includes implementing many regulatory and permitting programs delegated by EPA and using EPA assessment tools as appropriate.
Maine DEP Programs
The Department administers a number of programs that regulate current activities and ensure licensed facilities are considering and preparing for climate change.
Stormwater
When rain water, also referred to as stormwater, hits the earth, it either soaks into the ground, or it runs over the surface until it reaches a surface body of water. If the stormwater stayed clean, there would be little concern for water quality. However, in many cases, where the water crosses developed and agricultural areas, it picks up pollutants, including soil particles, nutrients, bacteria and other toxic materials, it comes in contact with. These pollutants are often carried all the way to a surface body of water such as a stream, river, lake, wetland or coastal water.
Predicted changes to Maine's climate include more frequent and larger weather events that would generate larger quantities of stormwater runoff, that can cause flooding and combined sewer overflows. Stormwater from developed areas in our watersheds carries pollutants, and affects the rates and volumes of flows in natural  bodies of water in ways that can cause physical as well as water quality damage. Stormwater management systems in Maine must be capable of handling these flows to prevent erosion, minimize or eliminate losses to human development and infrastructure, and reduce discharges of pollutants. The Department considers these increased storm event flows when evaluating permit applications and site operations for adequate stormwater management.
The Maine Stormwater Program includes the regulation of stormwater under three core laws: The Site Location of Development law (Site Law), Stormwater Management Law and Waste Discharge Law (MEPDES). Aspects of stormwater are also addressed under industry specific laws such as the borrow pit and solid waste laws, and the rules administered by the Land Use Planning Commission.
Stormwater contact: Brian Kavanah 207-287-7700
With the goal of maintaining existing hydrological conditions, developers should consider:
Green infrastructure: uses natural hydrologic features to manage water and reduce runoff which then reduces the burden on local stormwater infrastructure.

Blue infrastructure: physically retains stormwater, lowering stormwater runoff magnitude by distributing the discharge over longer periods of time.
Low Impact Development: LID is an approach to land development (or re-development) that works with nature to manage stormwater as close to its source as possible. By implementing LID principles and practices, water can be managed in a way that reduces the impact of built areas and promotes the natural movement of water within an ecosystem or watershed. Applied on a broad scale, LID can maintain or restore a watershed's hydrologic and ecological functions.
Watershed management focuses on land use activities throughout a watershed with the goal of preventing polluted runoff from those activities from reaching surface water. Changes in precipitation patterns and intensity may increase the demand for techniques that mitigate the impacts of intense storms and require greater capability and capacity be built into water management systems. The DEP is involved in watershed management in several ways. Education and training programs are designed to reach citizens living and working in the individual watersheds. Technical assistance is also offered by DEP staff to local groups, who are interested in surveying sources of pollution within their watersheds, and/or in developing watershed management plans for eliminating or reducing pollution sources. The DEP administers several grant programs designed to offer non-profit organizations assistance in carrying out these activities. The Department also organizes monitoring and assessment of water quality in lakes, rivers and streams. 
Water Quality Programs
The Department implements monitoring programs under the Federal Clean Water Act and State law. The Department is responsible for managing, protecting and enhancing the quality of Maine's water resources through voluntary, regulatory and educational programs. Additionally, the Department collaborates with local, state and federal agencies to plan and implement strategies to protect Maine's water quality and monitors ongoing effects of climate change on these valuable natural resources.
Watershed management contact: Don Witherill 207-215-9751
Land Development
The DEP is responsible for licensing, enforcement and oversight of various land development activities. This includes review of developments that may have a substantial effect upon the environment. It also includes developing management programs and establishing sound environmental standards that will prevent the degradation of, and encourage the enhancement of, Maine's natural resources. The DEP works with developers so projects are better able to withstand severe weather events.
Land development contact: Mark Bergeron 207-215-4397
Site Development
The Site Location of Development Law (Site Law) establishes review of real estate based developments that may have a substantial effect upon the environment. These types of developments have been identified instatute and rule, and include developments such as: projects occupying more than 20 acres; metallic mineral and advanced exploration projects; large structures and subdivisions; and, oil terminal facilities. A permit is issued if the project meets applicable standards addressing areas such as: stormwater management; groundwater protection; infrastructure; wildlife and fisheries; noise; and, unique natural areas. Developers should retain natural hydrologic patterns and include measures that have the goal of keeping the pre- and post- development runoffs flow volumes and patterns the same.
Wetlands
Management of wetlands is critical for stormwater control, to buffer the impacts of intense storms and more rapid snowmelt. Wetlands behave like a sponge during a runoff event, absorbing and holding excess stormwater/runoff and then slowly releasing it over a longer period of time. This not only reduces the severity of the impacts from a storm event but the resources needed to manage the storm event. Under the Natural Resources Protection Act (NRPA) a permit is required when an "activity" will be: located in, on or over any protected natural resource, or located adjacent to (A) a coastal wetland, great pond, river, stream or brook or significant wildlife habitat contained within a freshwater wetland, or (B) certain freshwater wetlands. 
Wastewater Treatment  
Increases in storm event frequency and intensity can result in increased combined sewer overflow activity. Wastewater treatment facilities must have the capacity and ability to handle storm events to order to keep harmful bacteria from being untreated and the resulting stormwater releases are kept from waters of the State. To that end, evaluations must be made and plans prepared and implemented to ensure that these facilities are functional both during and following these more intense storm events.
The DEP oversees the Revolving Loan Funds  program, which offers low-interest loans to improve municipal and quasi-municipal wastewater treatment infrastructure. Communities that make investments to have high-quality, safe and sustainable wastewater facilities will see the return from businesses that want to locate or expand to their towns and cities. These projects will improve resiliency and can save taxpayers money by reducing future repairs and upgrades while maintaining service functionality. Also, these projects may result with lower insurance rates due to the facility having a greater resistance to damage caused by a storm event.
Wastewater engineering grants and loans contact: John True 207-287-7808
Materials Management
State policy directs that municipal solid waste be managed in accordance with the Maine's Solid Waste Hierarchy, which prioritizes reducing, reusing and recycling and puts landfilling last. The Department recently completed an update to the State's Five Year Solid Waste Management Plan which also includes the 2012 Waste Generation and Disposal Capacity Report. The term  'materials management'  refers to the life cycle management of materials and products as they trace their course through the economy, from raw material extraction to product manufacture, transport, use, source reduction, reuse, recycling and disposal.  By reducing the amount of materials required in manufacturing, and capturing/diverting those materials from disposal, the demand for natural resources is lessened.  Additionally, beneficial reuse of materials offers economic opportunities and reduces GHG emissions. EPA states that forty percent of U.S. greenhouse gas (GHG) emissions are linked to use of material goods and their disposal.
Debris
Storm events often create large amounts of wood and construction debris. Many facilities in Maine are licensed to beneficially use, recycle, process, and dispose of wood and construction debris. Through planning and adoption of practices to improve resiliency of infrastructure to a changing climate, a reduction in storm event related debris generation should be seen.
Landfills
The Department regulates the siting, design, and operation of landfills for the disposal of municipal solid waste, special wastes, construction/demolition debris, land clearing debris, and wood wastes. Storage structures must be designed to withstand the stresses due to dynamic and static loading conditions and the effects of climatic changes expected over the life of the landfill.
The Department helps prepare to manage surges of wastes that can be caused by severe storm events by reviewing the design and location when licensing chemical storage, hazardous and solid waste storage areas to prevent off-site transfer of contaminants. Proper treatment, storage, and disposal of hazardous waste protect the environment from harmful contamination. DEP supports prevention by activities such as permitting and inspections.
In situations where there is a spill, the Department's Emergency Response coordinators are stationed in the Emergency Operations Center during large emergency events, and DEP Oil and Hazardous Materials Responders provide direction and participate in efforts to prevent environmental contamination and protect public health.
Remediation, redevelopment of contaminated areas  
The Department oversees  the Brownfields, Federal Facilities and Superfund, Municipal Landfill Remediation, Petroleum Clean Up, Uncontrolled Sites, and the Voluntary Response Action Program programs to clean up contaminated properties.
The Department incorporates considerations for increased storm events and flows when reviewing and developing site cleanup plans, particularly for sites that may be impacted by flooding and storm surge. Sites at risk of causing a release of contaminates are prioritized.
Air Monitoring
The Department operates and maintains a variety of ambient air monitoring equipment around the state. Some of these instruments operate on a continuous basis and provide hourly averages of pollutants or meteorological data that is used in the evaluation of the air pollutant data. Data may also be collected over a twenty-four hour period such as particulates or it may be collected as a composite over an entire week. Examples of the latter are the atmospheric and mercury deposition monitoring programs. The number of monitoring sites and the pollutants that are monitored may vary from year to year depending on the expected concentrations of the pollutants, the origin of the pollutants and new programs based on changes in existing regulations or the establishment of new regulations.
Other Resources
Reports and Publications
Maine Municipal Planning Assistance Program
Helps local communities build resilient systems
Department of Agriculture, Conservation and Natural Resources, through their Coastal Program and Municipal Assistance Planning Program, assists local efforts to identify and plan for potential impacts to municipal infrastructure and local resources, from a rising sea
Coastal Zone Management
U.S. Environmental Protection Agency
The U.S. EPA issued a Climate Change Adaptation Plan for incorporating climate change considerations into environmental regulatory programs. EPA plans to build and strengthen its adaptive capacity and work with its partners to build capacity in states, tribes, and local communities. EPA will provide its staff and partners, including the Maine DEP, with the necessary data, information, and tools to integrate climate adaptation into their work.
EPA published 17 draft Adaptation Implementation Plans in November 2013 for public comment. EPA proposes to develop fact sheets and tools for states, local jurisdictions, and other planning organizations, and to update models and technical standards to include considerations for predicted changes to the climate across the country. 
Maine Emergency Management Agency
Maine Emergency Management Agency Hazard Mitigation Plan - Planning for flooding
MEMA provides a guide for municipalities and other local jurisdictions to develop Debris Management plans, including identification of nearby facilities and sites for managing wood and construction debris generated by storm events. 
Maine Office of GIS
Floodplain planning and mapping
University of Maine
Climate Change Institute
Georgetown Climate Center
The nonpartisan Georgetown Climate Center seeks to advance effective climate, energy, and transportation policies in the United States—policies that reduce greenhouse gas emissions and help communities adapt to climate change.
The Georgetown Climate Center's 'Progress Checker' is a project on monitoring the implementation of state's adaptation plans. This interactive webpage uses a map that highlights the status of state adaptation efforts. A state may be selected to view a summary of its progress to date and to access its full profile page. State profile pages include a detailed breakdown of each state's adaptation work and links to local adaptation plans and resources.
Maine's Regional Planning Commissions
Southern Maine Regional Planning & Development Commission
Androscoggin Valley Council of Governments
Mid-Coast Regional Planning Commission
Hancock County Planning Commission
Portland Regional Chamber of Commerce
Kennebec Valley Council of Governments
Lincoln County Regional Planning Commission 
Midcoast Council of Governments
Northern Maine Development Commission
Washington County Council of Governments
Eastern Maine Development Corporation