Solid Waste Management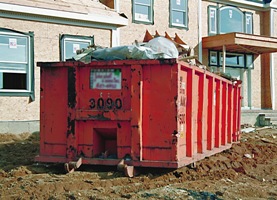 Introduction
The State of Maine supports an integrated approach to waste management. This includes programs to: reduce the amount and toxicity of waste generated, promote reuse and recycling of waste, and compost and process waste to create safe and useful products. Disposal through incineration and landfilling is the least preferred option.
The DEP's solid waste programs include: solid waste facilities management, sludge and residuals management, scrap tire management, electronic waste and mercury product management, and the non-hazardous waste transporter program. These programs offer education and technical assistance as well as performing regulatory activities including licensing, compliance and enforcement of the State's Solid waste laws.
Contacts
Director, Division of Solid Waste Management - Paula Clark 287-2651
Solid Waste Facilities Licensing & Enforcement
* Augusta Region - Paula Clark 287-2651
* Bangor Region - Cynthia Darling 941-4570
* Portland Region - Randy McMullin 822-6300
* Presque Isle Region - 764-0477
Sludge & Residuals Licensing & Enforcement - Carla J. Hopkins 215-3314
Product Management Programs: E-Waste, Mercury Products - Carole Cifrino 485-8160; Lead, & Asbestos - Jamie Tansey 287-7722.

Statutory Section
38 MRSA §1301 – §1310-B – Waste Management General Provisions

38 MRSA §1310-N – §1310-AA – Solid Waste Facility Siting

38 MRSA §1316 – Tire Stockpile Abatement

38 MRSA §1380 – §1390 – Sludge and Residuals

38 MRSA §1601 - §1683 – Sale of Consumer Products Affecting the Environment

38 MRSA § 2101 – Waste Management Hierarchy

38 MRSA §1771 - 1775 - Product Stewardship

Rules
Chapter 400 - Solid Waste Management Rules: General Provisions

Chapter 401 - Solid Waste Management Rules: Landfill Siting, Design and Operation

Chapter 402 - Solid Waste Management Rules: Transfer Stations and Storage Sites for Solid Waste

Chapter 403 - Solid Waste Management Rules: Incineration Facilities

Chapter 405 - Solid Waste Management Rules: Water Quality Monitoring, Leachate Monitoring, and Waste Characterization
Chapter 409 - Solid Waste Management Rules: Processing Facilities
Chapter 410 - Solid Waste Management Rules: Composting Facilities

Chapter 411 - Non-Hazardous Waste Transporter Licenses

Chapter 415 - Reasonable Costs for the Handling and Recycling of Electronic Wastes

Chapter 418 - Solid Waste Management Rules: Beneficial Use of Solid Wastes

Chapter 419 - Agronomic Utilization of Residuals

Chapter 420 - Septage Management Rules

Chapter 424 - Lead Management Regulations

Chapter 425 - Asbestos Management Regulations
Licensing and Facilities Information
Forms and Fees for Solid Waste Applications and Annual Reports
DEP Licensing Fee Schedule (pdf format)
Processing Times for New Applications (pdf format)
List of Active Transfer Stations - facilities listed by town (pdf format)
List of Active Landfills (pdf format)
List of Active Processing Facilities (pdf format)
Map of Solid Waste Landfills - This map shows both closed and active landfills in Maine. Active landfills include municipal and regional landfills, as well as private and commercial landfills. The type of wastes each landfill accepts is determined by its license, e.g., many landfills are licensed to accept only construction/demolition debris and wood waste.
Additional Program Information and Guidance
Asbestos and Lead - information on these materials in the home, and hiring or licensing lead professionals and asbestos abatement contractors
Beneficial Use - definition, licensing criteria and links to more information
Non Hazardous Transporter Program
Residuals Utilization - sludge and composting
Transfer Station Operators Training Brochure (pdf format) - Please contact Sandy Moody, Maine DEP @ 207-287-7751 with any questions.
Guidance
Are you thinking about Burning Construction & Demolition Debris (pdf format)
Characterization of Construction/Demolition Debris by the Visual Estimation Method (pdf format)
C&D Visual Estimation Form (Excel format)
Guidance and Checklist for Live Fire Instruction and Training Activities (pdf format)
Guidance on Disposal & Use of Assorted Solid Wastes Generated in Maine (pdf format)
Related Programs
Fluorescent light bulb information
Homeowners – Smoke Detector Takeback – Federal law requires manufacturers to take back smoke detectors that contain a radioactive source. This N.H. Department of Environmental Services website includes a listing of brands and information for returning smoke detectors to the manufacturers. (Off-Site)