Marine Pumpout Program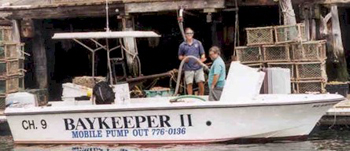 Use your head; pump it out.
The untreated sewage from two recreational boaters in one weekend puts the same amount of bacterial pollution into the water as does the treated sewage of 10,000 people.
As a group, boaters are dedicated to protecting the marine environment. They know firsthand the joys of life on the water. Please help keep our waters clean and healthy.
New pumpout requirements for Maine marinas
Starting July 12, 2010 marinas providing pumout services to boaters must ensure that the pumpout system is accessible and operable at all stages of the tide and are limited to a maximum charge of $10. Some inland marinas are now required to provide pumpout service. Fore more information, see our boat holding tank pumpout program fact sheet.
Contact
Marine pumpout locations
Pumpout boats
For information on pumpout boats contact:
The Friends of Casco Bay 207-799-8574: to schedule a pumpout, call 207-776-0136
The Town of Boothbay Harbor 207-633-4220 (for information and pumpout service)
The Town of Camden Harbormaster 207-236-7969 (for information and pumpout service)
Red Fern Pumpout Boat @ Up Harbor Marine 266-0270 (for information and pumpout service)
Most of the pumpout boats monitor VHF Channel 9.
Upload the pumpout locations into your GIS through Google Earth!
Related links