Volunteer Opportunities and Events
The Maine Conservation Corps welcomes volunteers to join our members and teams on projects throughout the state. Individuals and groups are invited to help out with projects like trail construction & maintenance, watershed surveys, invasive species removal, and many other conservation efforts.
Volunteers under the age of 18 will need a parent or guardian to sign their Volunteer Card. To volunteer without an accompanying adult, children must be at least 16 years old. MCC volunteers without their own health insurance can be covered during their volunteer service by the MCC's SERVE/Maine Accident Insurance Policy. To be covered by the policy, volunteers must be at least 14 years old.
Our field season has ended but we continue to look for help at the MCC office.
Come volunteer with the MCC!
Volunteer Contact:
MCC Volunteer Coordinator
207-624-6085

Additional Information
Click on the links below for more information about how to prepare for your volunteer experience!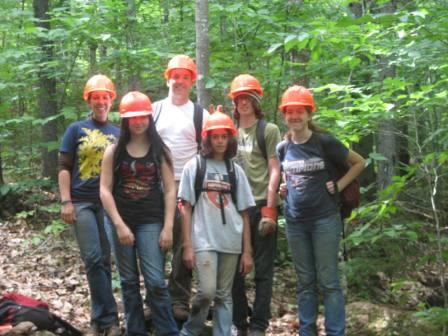 YMCA Camp group on Tumbledown Mountain
Trail Crew Volunteers assist the MCCs Field Team Leaders and their crews in accomplishing trails projects all over Maine. Activities include, but are not limited to: cutting new trail; rehabilitating trail; quarrying for rocks; pruning trees and shrubs; moving materials; constructing timber, stone, and erosion control structures; resurfacing trails; installing signage; and other trail work and maintenance. No prior trail experience or minimum time commitment is required. Safety equipment and any necessary training is provided by the MCC.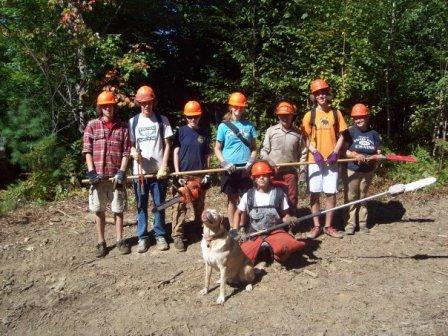 Volunteers & crew members with Western Foothills Land Trust
Environmental Educator Volunteers assist the MCCs Environmental Educators with various projects including, but not limited to: watershed and biological surveys and sampling; outreach events; area clean-ups; trail work and maintenance; educational classes, workshops, and camps; invasive species removal; and other environmental and educational events and activities. Time commitments and necessary experience vary from project to project.